Bulk Maple Syrup at Wholesale Prices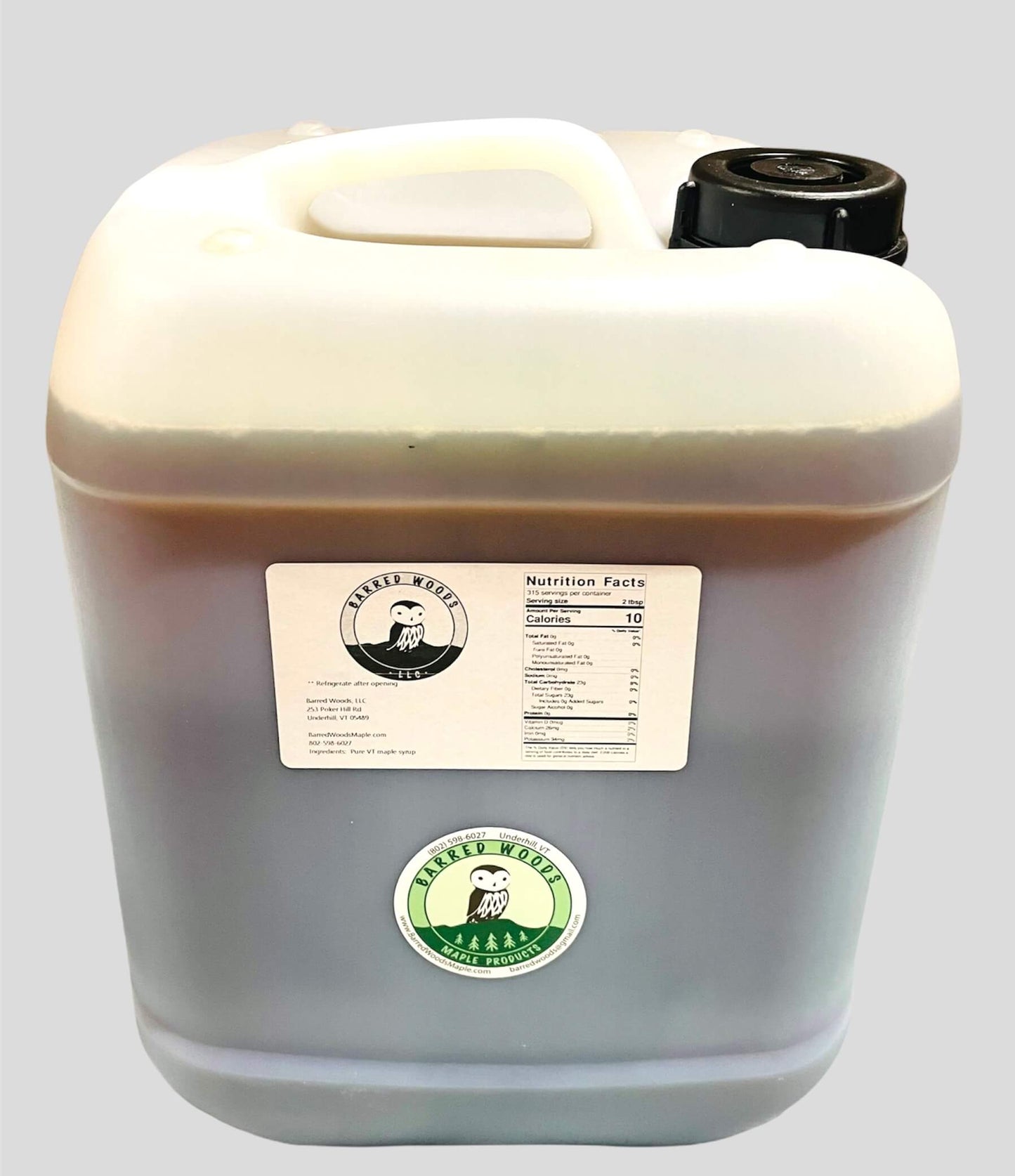 Bulk Maple Syrup Sale
Our 2.5 Gallon containers are on sale for $132.95 each. Buy 10 or more and they are only $126.95 each with Free Shipping! For most customers this is your lowest per gallon cost option.
Buy Bulk Maple Syrup at Wholesale Prices
Let Barred Woods Meet Your Bulk Maple Syrup Needs!
Now Shipping Fresh 2023 Season Maple Syrup!!!

Why Maple Syrup ?
Pure maple syrup is one of the fastest growing flavor profiles in the United States and around the world.

Its unique and delicious flavor is a way to differentiate your offerings in the marketplace. Our Vermont maple products are used to make granola, fresh juice, baked goods, sausages and meats, ciders, candies, marinades, and craft beer, among other items.

Its health benefits compared to traditional cane sugar or corn syrup sweeteners are becoming well known and are a deciding factor for many consumers.
Why Barred Woods as Your Bulk Supplier?
The same care and quality we put into our retail products is also provided in our bulk packages.

Best tasting, purest maple flavor. From the heart of maple syrup country in Northern Vermont. ​​The Vermont brand is synonymous with maple syrup.

Competitive Prices. Bulk syrup is an economical way to add pure maple flavor to your product.

Reliable, consistent year round supply.

Shop for Bulk Maple Syrup
Purchasing Considerations:
Bulk maple syrup is heavy, and to be honest, can be "sticky" to use. We have developed what we believe to be the best packaging, shipping, and handling options through working with our customers. If you are new to using bulk maple syrup here are a few considerations that might help you pick the right packaging solution. Feel free to call us at any time with questions at (802) 598-6027
How much do you plan to use per day, week, month?

How often do you dispense syrup. For example are you a restaurant dispensing maple syrup for customers' breakfasts every five minutes or a brewery using a five gallon pail once a week?

How much do you typically dispense each time?

Where do you dispense?

How much storage do you have for bulk containers of syrup?
We've summarized our recommendations in the table below:
| Relative Usage | Relative Ease of Handling | Cost Per Gallon | Dispensing | Our Product Recommendation |
| --- | --- | --- | --- | --- |
| Lower | Easiest | Good | Pour Directly into Product or Dispenser | One Gallon Jug Maple Syrup or 2 One Gallon Jugs or 2.5G Bulk Container  |
| Medium | Medium | Better | Pour Directly into Product or Dispenser  | Case of 4 One Gallon Jugs |
| Medium | Medium | Better | Use Included Spout or Stand Upright and Use Hand Pump or Pour Directly  | 5 Gallon Bulk Container |
| Medium/High | Medium | Better | Pour Directly | 5 Gallon Bulk Pail |
| Very High | Medium | Best | Pour Directly | Pallet of 10-24 Pails or Bulk Containers.  Call us for Quote at 802-598-6027 or email us. |
| Very High | Hardest | Best | Electric or Pneumatic Pump | 55 Gallon Barrels.  Call for Quote  802-598-6027 or email us. |